Geo Shelters
Geo Shelters currently offers three colors for the shelters: white, tan, and digital Camo. They are available in two sizes: 24′ diameter and 16′ diameter. Each Shelter has a vertical door to keep wind and rain out when open. It has been specifically designed to attach to a Vestibule, or to connect to another 24′ or 16′ GeoShelter. A timelapse video of an entire GeoShelter assembly that took just under 2 hours can be seen here.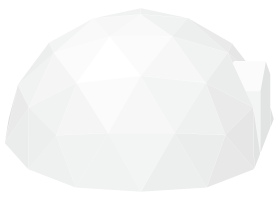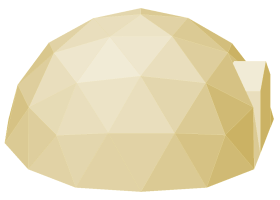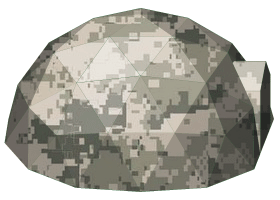 Geo Shelters Frame
The geodesic frame creates the greatest strength to weight ratio found in any architectural structure. Our frame poles are made of high strength Aircraft Aluminum and weigh only 1 pound each, yet each pole hub can withstand up to 500 lbs.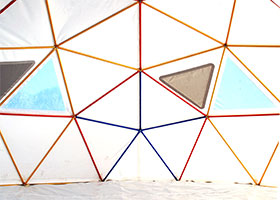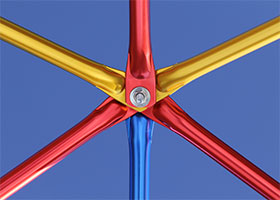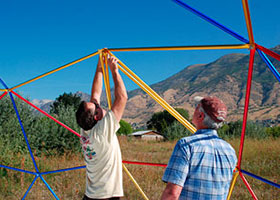 Geo Shelters all have a vertical aluminum door frame which helps keep the elements out. The spacious 64″ Wide x 84″ high opening makes it easy to go in or out of the shelter.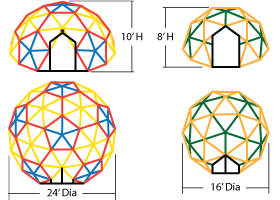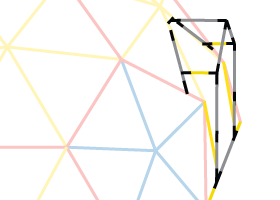 Geo Shelters Cover
Custom-fit architectural fabric covers are rated to last 5-7 years, 365 days a year under any weather condition. Due to the strength of the frame and the durability of the cover, they can withstand heavy winds and stand strong under extreme snow levels and conditions.
Comes with a Stove Jack Weather Flap
2 Windows and 2 Vents come standard on all shelters
All covers are UV protected and fire retardant (not just fire resistant)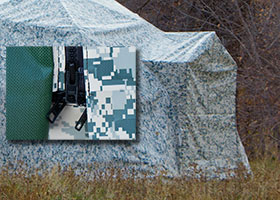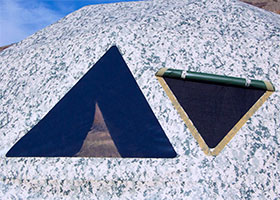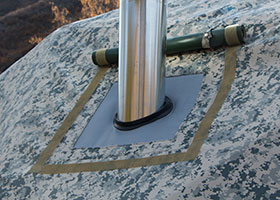 Floor Vapor Barrier and Additional Items
Floor Vapor Barrier: Comes standard with all Geo Shelters along with more than enough clips to securely attach it the frame
Made of waterproof multi-layered polymer string-reinforced material
Keeps the moisture in the ground from entering the shelter
Additional Items: Included with each shelter are all the necessary items, including waterproof instructions, for a quick and easy assembly:
D-Rings, 24″ rebar stakes and a hammer for staking down the cover
Assembly hardware (nuts/bolts/washers) and 2 wrenches for frame assembly
75′ rope for pulling on the cover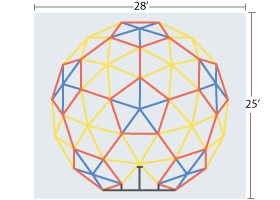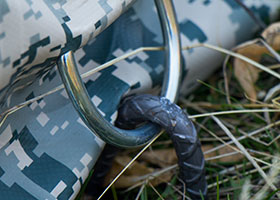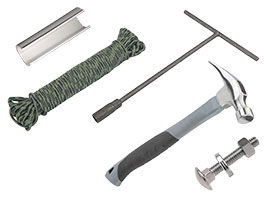 Upgrades
Cover Upgrades
Each cover can be upgraded by adding a 2nd Door or by having a Stove Jack factory installed.
2nd door Upgrade

 is a nice addition for a 2nd entrance, a bathrooom/shower area or to connect to another shelter

Installed Stove Jack Upgrade

 is required when using a stove inside the shelter

Three sizes of Stove Jacks are available: 4.5″, 5″ or 6″. The size is based on the size of the stove pipe used with the stove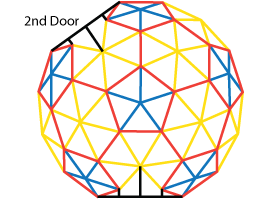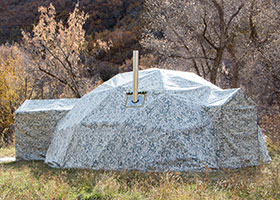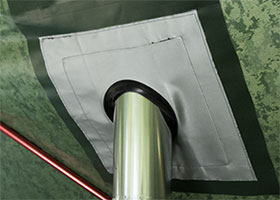 Additional Upgrades
Floor Vapor Barrier Upgrade:

A heavy duty waterproof vinyl covered nylon fabric (similar to that used in our covers) that will withstand the rigors of foot traffic while still keeping the miosture in the ground from entering the shelter
Add-Ons
Insulation
Our Insulation is custom designed to attach to the frame bolts on the interior of the shelter. Made of a patented polypropolyne based non-woven fabric, it is very light-weight, thin and easily managable weighing in at only 21 lbs (24′) and 11 lbs (16′).
It has two-fold insulating properties:

Reflects 95% of radiant heat. Keeps heat inside during the winter, and heat out in the summer
Creates a 1″ to 1.5″ inch insulating air gap barrier between the cover and the insulation much like a double paned window

Each triangular piece is white on one side and metalized on the other. The metallic qualities adds an EMP resistance barrier to the shelter
Comes with mounting hardware and frame clips to seal around the windows, vents, stove jack, and door sections
Color coded tabs on the corners allow for easy installation, while providing strength and durability for a longer life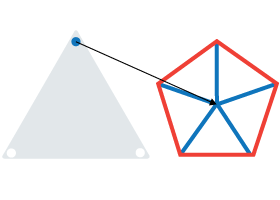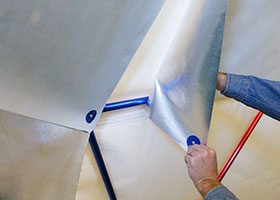 Geo Shelter Vestibule
The Geo Shelter Vestibule adds a great deal of functionality to a shelter. The additional 4-1/2 feet of entryway is great for a Mud Room, Shower/Bathroom, a Hallway between joined shelters and much more.
Easily attaches to the Geo Shelter Door Entry
Utilizes the existing zippered door from the Geo Shelter door entry
Can be used in conjunction with the Dome-to-Dome connectors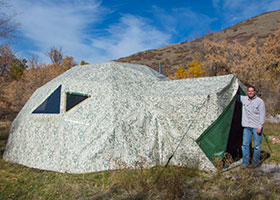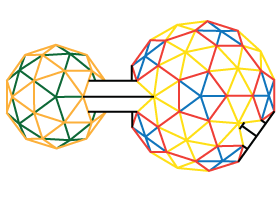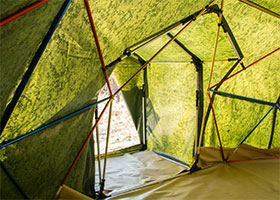 Gear Loft
Makes great use of the overhead space at the top of the shelter, and helps keep your floor space open and uncluttered. Currently only available for 24′ shelters.
Over 86 square feet of storage space
Easily attaches to the frame hubs
Available in black
Constructed of high strength quality materials, it is strong yet light-weight only weighing 6 lbs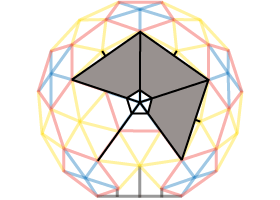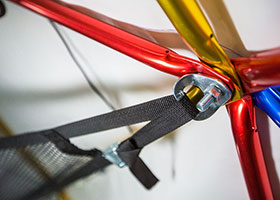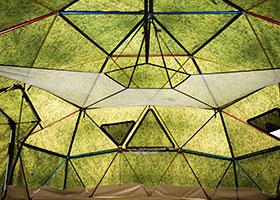 Room Dividers
Geo Shelters can easily be divided into 2, 3, 4 or 5 rooms in a number of configurations. The room dividers attach to the bottom of the Gear Loft and can be easily lifed up and out of the way when not is use.
Each room is made from 2 separate room dividers
2 Room dividers makes two room, 3 dividers makes 3 rooms, etc..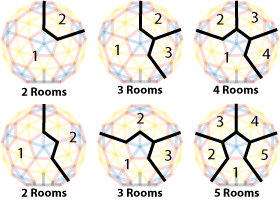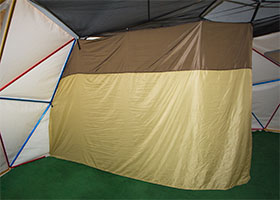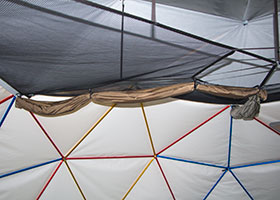 Additional Add Ons
Screen Door:

Creates a strong cross breeze through the shelter while keeping bugs out
Easily attaches to the door frame with frame clips

Dome-to-Dome Connector:

Quickly and easily connects any 2 Geo Shelters together, works with both the 24′ and 16′ shelters
Dome Connector attaches to the Geo Shelters Door Entry or the Vestibule

Internal Window Coverings:

Custom Window Coverings when privacy is needed.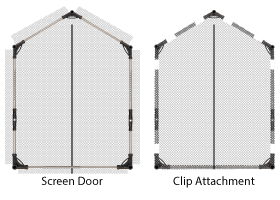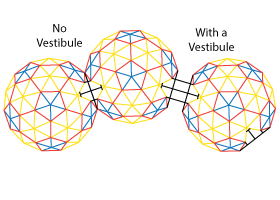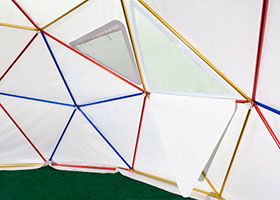 Accessories
GoalZero Perfect Lighting Kit
Utilizing Goal Zero products, we feel that we have put together the "Perfect Lighting Kit" for any GeoShelter: The Yeti 150 Solar Generator, Nomad 20 Solar Panel and 5 LED Light-a-Life lights. The Yeti 150 will run all five lights for up to 10 hours and the Nomad 20 will fully charge the Yeti 150 in 17-34 hours. The lights string together perfectly around the inside of the dome, and can be used individually or all together.
Goal Zero Yeti 150 Solar Generator: A plug-and-play, silent, fume-free generator for emergencies, camping, or wherever you need power. The Goal Zero Yeti 150 Solar Generator is a gas-free source of portable power to keep lights, phones and laptops powered on through any situation.

Recharged by: AC, 12V, Solar. Power Output: USB, 12V, AC. Capacity: 150Wh, 14,000mAh. Weight: 12 lbs (5.4 kg)

Goal Zero Nomad 20 Solar Panel: Goal Zero's largest foldable panel ensures you're collecting the most power from the sun for your gear. Utilize the built-in USB port or pair with a Goal Zero portable power pack to charge your gear day or night.

Solar Capacity: 20W. Power Output: USB. Cell Type: Monocystalline. Weight: 2.5 lbs (1.1 kg).

Goal Zero LED Light-a-Life lights: Bright, low power draw LED light where a soft lantern type light is desired. String them up around camp, beach or backyard easily with the adjustable carabiner and enjoy the night!

RLumens: 270. Power Output: 3W. Rated Use: 20,000 hours. Weight: 0.7 lbs (0.45 kg)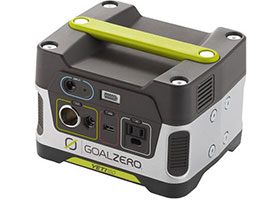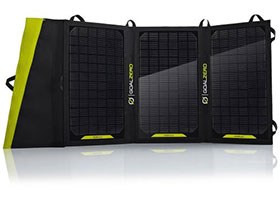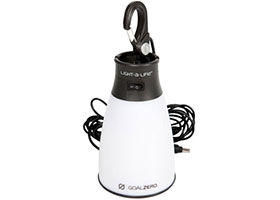 Cylinder Stoves
Since its beginnings in 1989, Cylinder Stoves has been committed to producing better products by continually improving design and construction techniques. It was the first to manufacture an outdoor stove with an innovative cylinder design. and they are hand built here in the United States. The cylinder design, along with a combination of 10, 12, and 14 gauge steel means a warp free stove which customers report holds heat longer, and they are hand built here in the United States. You'll spend less in maintenance and save money on fuel. Their quality speaks for itself.
Available in 4 sizes: One for every need.

Scout – 23 lbs / 16″L x 10.5″W x 9″H
Hunter – 42 lbs – 24″L x 14″W x 11″H
Outfitter – 54 lbs – 28″L x 16″W x 13″H
Yukon – 63 lbs – 28″L x 18″W x 14.5″H

Portable: Everything, including available accessories, fit inside the stove for simple storage and portability.
Also available as a package (Includes: Warming Tray, Water Heater, Spark Arrestor, Stovepipe Dampener) as shown below.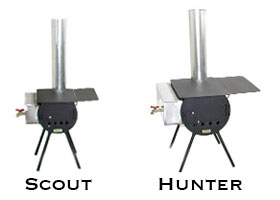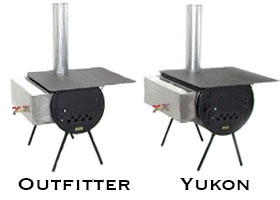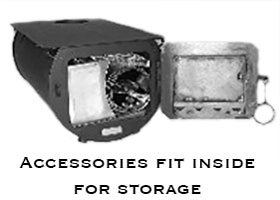 Chimney Oven: The oven installs directly to the stove pipe from your stove. No other support is necessary. The oven can be turned any direction in relation to your stove. Smoke from the stove pipe heats oven by circulating completely around the oven chamber, providing an even heat for baking. (smoke does not come in contact with food). Temperatures up to 500_ are easily regulated by controlling rate of burn in stove.
Oven comes with one 9×11 cookie sheet, and one 9×11 baking pan.
Available with 5″ or 6″ stove pipe holes.
Oven stands 24″ above stove.
Dimensions: Outside – 20″ L X 14″ Diameter / Inside – 16″ L X 11″ Diameter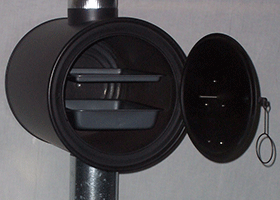 Grand Trunk Hammocks
The strength of the GeoShelter frame allows for Hammocks to be hung from the pole hubs. We love Grand Trunk hammocks, that easily stuff into a sack the size of a softball, yet can hold enough weight for comfortable lounging or sleeping. We currently offer 2 sizes: An Adult or a Child.
Grand Trunk Adult Hammock: Weight – 16oz / Dimensions – 10.5 x 5ft / Fabric – Parachute Nylon / Capacity – 400 lbs
Grand Trunk Child Hammock: Weight – 12oz / Dimensions – 9.5 x 4.5ft / Fabric – Polyester taffeta / Capacity – 250 lbs